Is a 700 Credit Score Good or Bad? Tips to Increase Your Credit Score
Table of Contents
Is a 700 Credit Score Good or Bad? Tips to Increase Your Credit Score
If you want to know if a 700 credit score is good or bad, the answer is it is more than good. But, it is not enough for you to get credit cards with premium rewards named after famous metals and gems. You can achieve those if you keep up with maintaining and improving your current score. 
A 700 credit score is a little below the average score, but, depending upon the method of the average credit score calculation lenders use, like the FICO credit score or Vantage, the range of the minimum credit score varies.
In this article, we are going to look more in detail at 700 credit scores and why they are good.
How Your Score Can Be Compared With Others?
You can check if you are within a good credit score range, which is generally between 690 and 719.

If your credit score is 700, then, according to FICO, a credit scoring company, your score is 37.2% above other consumers.

According to FICO, only 21% of consumers have good credit scores ranging from 670-739.
Strategies To Build Your 700 Credit Score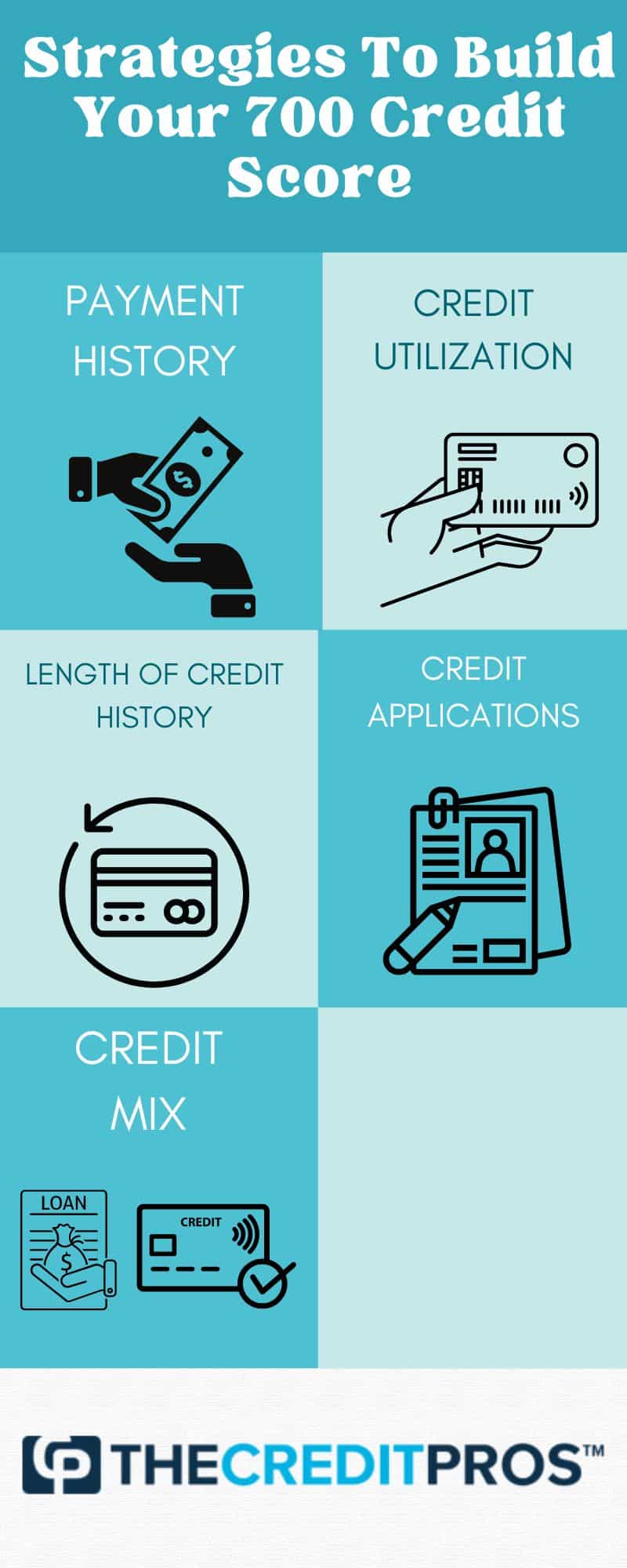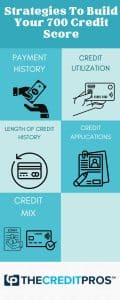 700 CREDIT SCORE
There must be good credit habits that you follow already to have earned a 700 credit score and maintained a good credit history. But, if you want a higher score than that, then there are some ways you can achieve that. To get the lowest rate of interest, you need an excellent score of 720 or above. 
It is not impossible to improve your score from a 700 credit score, although it is already good. If you pay attention to a few factors, you can improve your credit reports. 
1. Payment History
One late payment can ruin your slowly building good score. To avoid the risk of missing or late payments, you can take precautionary steps, like setting up autopay for bills and keeping your credit card accounts in good standing.
2. Credit Utilization
The amount of the credit limits you still have in use is what is referred to as Credit utilization. Always limit your usage to 30% or less than your credit limit. You will be a consumer with the highest credit score if your utilization is 10% or below that, according to VantageScore.
If you are considering getting a new credit card, you can ask for a higher credit limit from your credit card issuer. But, whatever the case is keep your spending to a minimum so that you don't lose your benefits of higher limits overall which can bring down the credit utilization ratio. 
3. Length of Credit History
It is better for your score to use your credit card balances for a long time, so your average age of accounts gets longer as well. Since your credit report is what lenders use as an estimation of risk for a customer, it gives them more trust if it is longer and gives more data for them to estimate. 
If you have a proper reason to close the credit card, like if it has a high annual fee, you can close the credit account, and you might as well look for better cards from the same issuer to switch to. It is better not to have multiple credit accounts.
4. Credit Applications
The inquiry is hard on your credit history each time you apply for a new credit. Each inquiry temporarily cuts off a few points from your score, so you need to give at least six months of space between applying for a new credit.
5. Credit Mix
The variety or mix of loan installments with payments fixed for a set time, and preferably credit cards like revolving credit can improve your score much better. 
Benefits of a 700 Credit Score
Practically speaking, you are considered a responsible borrower from the lender's point of view if you have a 700 credit score or more. You will most likely be offered loans and credit cards easily. So, these are some of the potential advantages of having a good score.
1. Easier Approval
The higher your score is, the easier it is to get approval for any loans and credit cards you apply for. Also, there is a wide range of financial products you have access to. Credit cards include much more attractive reward credit cards for someone with a 700 credit score. Even then there are still some factors, like your income level that are also considered by lenders when they decide to approve you or not.
2. Lower Interest Rates: 
The lenders may be more willing to offer you a lower interest rate if you have a good credit score. You are considered less risky, hence there can be some benefits to credit cards, like low deposit rates, no annual fee, and low interest. 
3. Higher Credit Limits: 
The amount of money that banks are willing to lend you can be influenced by credit scores. A higher score leads you to get higher credit limits and loan amounts for the maximum. But as mentioned previously, your income level plays an important role in how much you can be approved for the loan.
4. Lower Insurance Rates:
Insurance providers access your credit report first when you apply for insurance. Your credit score is considered when determining your rates, and if you have a high score that will typically result in low premiums on your insurance.
What a 700 Credit Score Can Get You
The lenders can determine, with the help of your credit scores, if you qualify for financial products and a low-interest rate.
But, you would come into the "good" credit range if you have a 700 credit score, which is more than the average credit score and will gain you lower rates on financial products like loans or credit cards. So these are the financial products you can get for a 700 credit score:
Car loans

Home loans

Credit cards

Personal loans
Do Late Payments Affect Your 700 Credit Score?
It is important for you to remember that a payment that is one or two days past the due date is not a huge disaster for your credit scores. You may get charged a late fee, but your credit card issuer could raise your interest.
However, if you did not make the payment for a bill for 30 days or more past the due date, your score will plummet. One late or missed payment can cut off 100 points from your credit scores, especially if it's a good one.
The exact score you lose depends on many other factors in your credit profile, but your score will most likely get hurt. So, take some steps to prevent missing or making late payments, like setting up an auto-paying method. And keep an eye on your credit score by frequently checking them. You can check your credit score for free at Experian and other similar websites.
Frequently Asked Questions
Is 700 a good credit score to buy a house?
The minimum requirements for most lenders of mortgage loans can be met by a 700 credit score. So, it is possible for you to buy a house if you have that score. However, beyond your credit scores, there are more factors lenders look for to determine your eligibility. 
Is 700 a perfect credit score?
The standards which industries set up the credit risk range is from 300 to 850, with 670-739 being a "Good score," 740-799 being "Very Good," and 800-850 being "Exceptional." So, in between a good range and below average comes a 700 credit score. 
How much of a loan can I get with a 700 credit score?
With a good 700 credit score or above, you can easily borrow $50,000 – $100,000 or more. The exact amount you get depends on some other factors besides your score, like your income level, your status of employment, the type of loan you applied for, and the lender of the loan.
Now That You Have a 700 Credit Score, What's Next?
You can consider reaching your goals by improving your credit score, rather than focusing on whether a 700 credit score is good enough or not. The score of your credit history, which can get you approved for a loan or credit card, and the following benefits you get for it depends on the type of financial product and the lender.
Some lenders require a 700 score as a minimum, some require you to have 720 plus to get approved for their top-tier cards. But, it does not mean you will get approved for a mortgage, refinance, or credit card. It just indicates that you can shop around more to find a lender that requires lower credit. Continue to practice good credit habits.
If you are worried about your credit health and need improvement, or have any other queries related to credit repairs, reach out to
The Credit Pros
immediately for quick and effective solutions.