How To Get a Land Loan with Bad Credit – 3 Best Ways
If you plan to build a home in the future, it is best to rely on land loans to make your initial investment. However, it is highly crucial to understand what it will take to qualify for a land loan.
I am Damon DeCrescenzo, a seasoned credit advisor at The Credit Pros. With my decades of experience in finance, I can see how hard it is to get approved for a home loan with bad credit. If you are trying to get a land loan with bad credit, you can avoid being disheartened by the difficulty of getting loan approvals. In this write-up, I will walk you through a set of reasonable yet effective ways to get qualified for a land loan with bad credit.
Land Loan with Bad Credit – Is It Possible?
Anybody applying for a land loan will require an upfront down payment or a high credit score to secure the loan. This makes the land loan approvals chances lower for bad credit scorers. But this doesn't mean it's impossible!
Low credit score holders can improve their credit scores to get approved for a land loan. It would be best to stay alert from scammers claiming they can get you a land loan with bad credit scores. It is always best to boost your credit scores and meet the credit expectations of any loan you are applying for.
Deran John talks about his experience after signing up with The Credit Pros. He recovered from bankruptcy and was happy about finding the right credit repair service.
Sign up here with The Credit Pros by entering your details! 
Suggested Reads
How To Boost Your Credit Scores by 100 Points in 30 Days
Role of Credit Bureaus in the United States
How To Recover From a Lifetime Bad Credit
Is It Worth Taking a Land Loan?
Though the criteria to qualify for a land loan is a little high, it is always worth the effort. As the land value keeps fluctuating for every instance, purchasing land when you find it affordable can help you with your future building project.
Credit Score Requirement for a Land Loan
You need to know the credit score requirements if you are all set with boosting your credit scores. Credit unions, banks, and other financial institutions expect a minimum score of 720 to provide land loans. Some lenders might consider providing loans for any score that is more than 600. 
Why Is It Hard to Get a Land Loan With Bad Credit?
When compared to mortgage process loans and construction loans, land loans are more challenging to get. This is because loan lenders will consider the land location to finance the land purchase. Types of Land Loans are one of the most important factors that influence loan approval. The loan process might vary based on how developed the location is.
Raw land loans

– Raw land loans are for lands with no water and sewage facilities.

Unimproved land loans

– Unimproved land loans are lands with basic infrastructure.

Improved land loans

– The improved land loans involve lands ready for construction as they are charged with enough amenities.
The market value of the land, the estimated future value of the location, and the boundaries of the loan applicants can influence the loan approval possibilities. As these factors are uncertain, land loan providers are pushed to raise the eligibility par for land loans. Some of them are:
Credit Score of

720

and above

High-Interest Rates

Upfront down payment.
3 Simple Ways To Get a Land Loan
If you are a credit user who is looking for land loan with low credit score, or a credit user unaware of the credit concepts, you should have gotten enough information by now about the importance of credit scores in getting loan approval. Now, let's look at a curated list of tips to overcome these bad credit issues and secure a loan.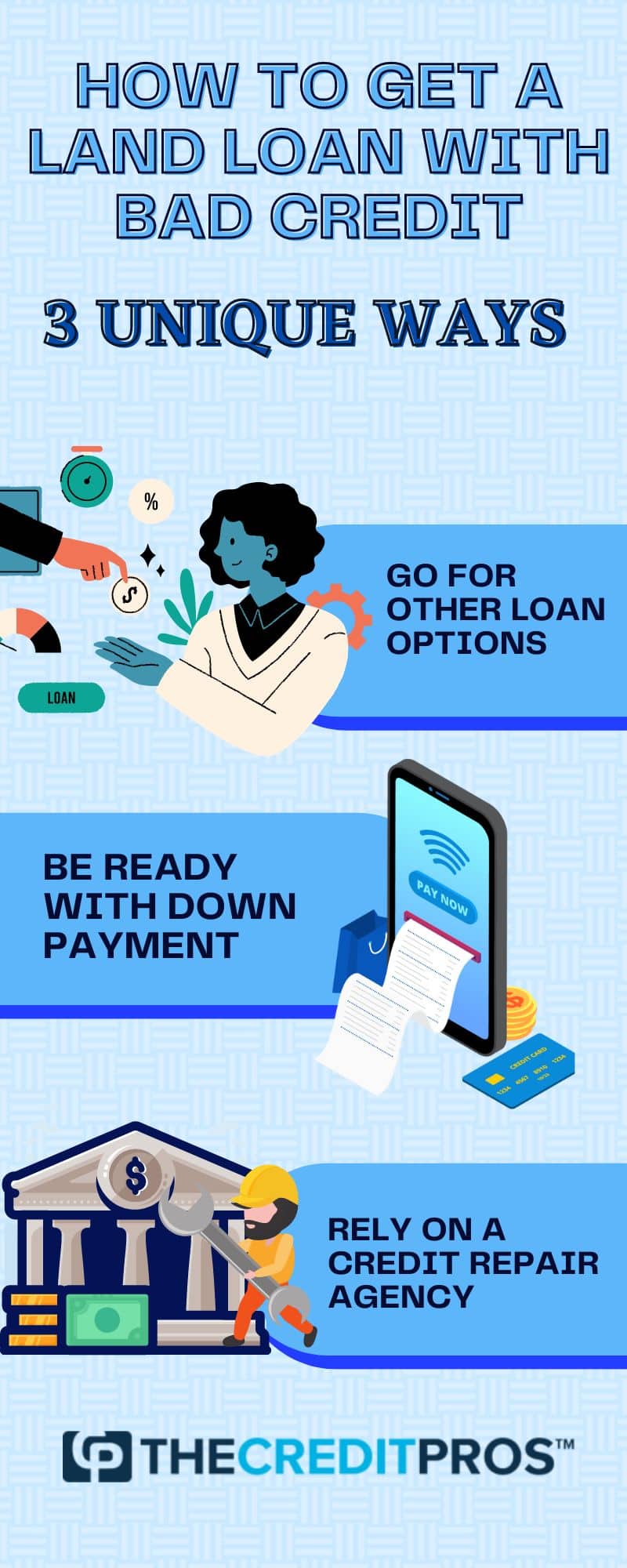 Try Other Loan Options 
If you are searching for a land loan with low credit score, you can look for other loan options where the loan eligibility criteria are quite reasonable for land loan seekers with bad credit.
Seller financing – When you can not convince an actual loan vendor to get a land loan with bad credit, you can depend on the owners from whom you buy land. Some owners will offer seller financing options to buy land for low credit scorers.
Co-signer – You can seek help from someone with a good credit score to co-sign your loan agreement and help you get a loan for land. You can use their positive credit history to help you get a land loan with bad credit.
Government land loan programs – Federal Housing Administration has rolled out FHA construction loans and home equity loans, making a land loan with bad credit possible. It applies to credit users with a 500 credit score, requiring you to pay a down payment of 10%.
Be Ready with a Down Payment
There are only a few land loan vendors, so you might need help getting approved for a land loan with bad credit. Securing a land loan may be a small deal if you are not bothered about paying high-interest rates or an upfront down payment.
Rely On a Credit Repair Agency
Though you have enough alternate options to get a land loan, the best practice is to boost your credit scores. Maintaining good credit scores can help you with every financial step you take. Credit repair agencies will educate you on the necessity of credit scores and guide you throughout the credit repair process. If you don't have the time to fix the errors in your reports, they can do it for you.
How Can The Credit Pros Help You?
The Credit Pros is an end-to-end credit service that supports users with all the credit assistance they need to be required.
Lack of knowledge – If you are unaware of the credit score concepts or need to figure out how it affects your loan approvals, our credit coaches and training sessions can help.
Unaware of Credit Score – Most users are less bothered about their credit scores. Some need clarification on how to find their credit scores. If you are one among them, you can make use of our consultations to gather experts' advice on credit management.
Short of time – Many people need more time to closely monitor their credit reports and find out if there are any errors. If you are among them, credit repair services can help you. They collect information from the bureaus and analyze for errors. Then they ensure that your report is error-free by raising disputes and fixing those errors.
Frequently Asked Questions
1. Can I get a land loan with bad credit scores?
As the expected score for a land loan is high, users need better credit to secure a land loan. But you can depend on other loan options, like seller financing, to get approved for a land loan with bad credit.
2. What is the minimum credit score required for land loans?
Loan vendors and banks expect a minimum credit score of 600 to 700 to approve your land loans. Some lenders may even expect 700 and above. If not, you might have to pay an upfront down payment or higher interest rates to get qualified for a land loan.
3. Is it the right approach to go for a land loan option?
Considering land loans to purchase land can help with investing in your future project. If you are in a good credit score range, you should be able to get a land loan. Otherwise, checking with your lender to see if you can afford the interest rates they demand is better.
Final Thoughts
I hope you are clear about the impact of your credit score on land loan approvals. When borrowing land loan with bad credit, you can try other options that don't expect higher credit scores. But, making efforts to improve your credit score is the wisest of all, as it will help you with all your financial steps in the future. If you are held up with other work and need more time to manage your credit accounts, you can rely on a credit management service like The Credit Pros. Do you have other ideas on securing a land loan with bad credit? Then just drop your thoughts down.
For more informations, you can ring us at (855) 458-0901