How to Pre-Qualify for a Credit Card? 5 Best Ways
Getting rejected for a credit card or loan can be a big disappointment. So knowing how to pre-qualify for a credit card can become quite handy as you can check to see if you pre-qualify for any credit card offers before applying.
In this article, you can briefly know about prequalification and how to improve your chance of getting prequalified for a credit card. Although getting rejected for a credit product does not really affect your credit score, the in-depth research of the issuer may bring uncertainty to the process of prequalification the next time you decide to apply for a pre-qualification. 
Related Reads
Top 3 Tips to Qualify for a Mortgage
How To Get a Land Loan with Bad Credit – 3 Best Ways
Will Prepaid Credit Cards Boost Credit Scores?- 6 Key Uses
In this article, we're going to see,
What is the difference between Pre-Qualification and Pre-Approval for a credit card? 

What are the ways to see if you are pre-qualified for a credit card?

How to Pre-qualify for a credit card? – 3 Best Methods to Enhance Your Chance of Getting Pre-qualified
What is the difference between Pre-Approval and Pre-Qualify for a credit card? 
Pre-Qualification
Pre-qualifying is a process where the credit card provider looks into your profile and credit to check if you will be eligible for a credit card by any means. You can apply for a pre-qualification process if you are interested in buying any credit cards. And after a basic review of your financial profile and credit scores, the credit card company will suggest cards you may qualify for. 
So, you will be the one giving all your financial and credit information, whatever is required for the credit card provider to check if you will qualify for the credit card. And one important thing you need to keep in mind is that pre-qualification is different from pre-approved where prequalification does not mean you will 100% get the credit card you apply for; it is just an assurance that you have more chance of getting a credit card than getting rejected. 
Pre-Approval
When a credit card issuer targets people who likely have a high chance of getting qualified for a credit card, associating with a credit bureau is called pre-approval, the process and criteria of pre-approval are more rigorous than pre-qualification offers. Pre-approval is a very strong indication of getting approved for a credit card than pre-qualification. You can rely upon it to move forward with your phase of application with high certainty. 
With pre-approval, you can see a range of credit card options you are eligible for and get a choice of card with good benefits. If there is a pre-approval offer you have received, it is because you have met the basic requirements of the credit card issuers' approval criteria. They have reached out to you, first offering your eligible cards. 
The credit card offers that come with pre-approval are entirely different because the issuers of the card already have all the information on your creditworthiness accessible to them and decide your eligibility. 
5 Methods to Pre-qualify for a credit card?
Each issuer and each card has various criteria you may have to meet for the approval of prequalification for a credit card. But these are the overall places where you must keep a steady and balanced phase of improvements to boost your chance of getting prequalified.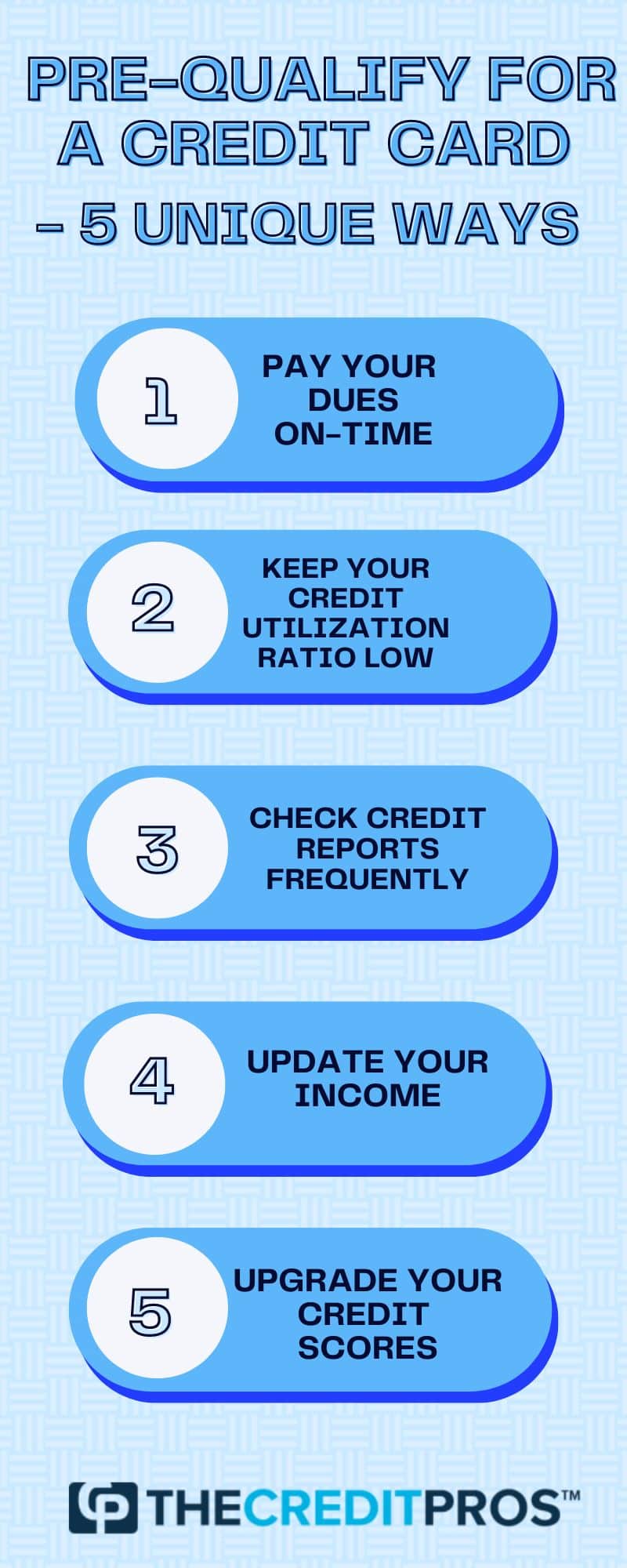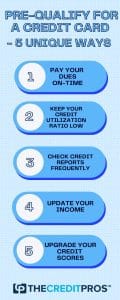 1. Pay Your Dues On-Time 
The most important thing you need to do to make your credit score good enough and get approved for other credit cards and loans is to make payments on time within the due date. 35 per cent of the payment history makes up the FICO score. 
Make sure not to make late payments on debts, instalments, bills, retail accounts, etc., or leave them outstanding. If you have such late payments and if it has negatively affected your credit score, you have a long way to go to repair that much, so applying for a new credit card could do more damage. 
2. Keep Your Credit Utilization Ratio Low
Pay as much as you can and try to lessen the debt as soon as possible, which can definitely have a positive impact on your credit. Relative to the credit available, the amount of money you owe is one of the credit scoring key factors. 
If you can, try to settle the whole amount of credit if possible because this makes up 30 per cent of the FICO score. While the impact made by the late payments and outstanding balances can take years to fade and fix, you can resolve the high credit utilization within a few weeks. 
3. Check Credit Reports Frequently
If you couldn't get pre-qualified for the credit card you wanted, you can request a free annual report of your credit and review it thoroughly to get an idea of where you are standing. So not only will you come to know about the negative things that have affected your credit to improve the effort of credit repairing, but you also will come to know if you need any help in disputing credit errors. 
4. Update Your Income
While your income is not a factor in your credit report, it plays a major role in pre-qualification offers. So, you can choose to update your income voluntarily with your issuer if you become a customer so that the issuer may give you offers of top-tier cards, once you've shown them that your income has increased over time. 
5. Upgrade Your Credit Score
If you feel like your credit score is not in good shape and your credit history is limited, then the offers you receive all the time may contain high interest/fees and harsh terms, which are generally called "free-harvest," which you need to be careful about. 
Just because you don't pre-qualify, you shouldn't go with any option available. It is better to use safer options like cards with no annual fee or a secured card after slowly rebuilding your credit. You can easily pre-qualify for cards like this and even get an upgrade to an unsecured credit card from secured if you keep on-time payments. 
What are the ways to see if you are pre-qualified for a credit card?
1. Offers Pre-screened via E-mail
The issuers or lenders are always looking out for eligible consumers for certain credit cards or credit products and target them by sending an email with credit offers. So, if you get any pre-screened emails, you can choose to apply for a credit card with offers you may find intriguing since you have a higher chance of getting approved. But make sure you do a lot of research before applying for a credit card and only go for it if you are sure enough about the genuineness of the issuer and the offer. 
2. Directly Contacting the Credit Card Issuer
So, if you already have chosen a credit card you want to apply for and the issuer of the card, you can directly get in touch with the source by contacting the issuer. Even then, many of the issuers in the mainstream offer a tool for checking pre-qualification on their official website. There, you can make sure you are prequalified before the application process. 
3. You Can Check Online for Pre-qualification
There are a few third-party apps and sites where you can check to see if you can pre-qualify for any of the site partner's offers with the tools provided by the site. And this method is just to check the pre-qualification, which doesn't necessarily mean you will 100% get the credit card. 
Frequently Asked Questions
1. Does pre-qualification affect credit scores for a credit card?
Pre-qualification is a way for consumers to check if they have the chance of getting approved for a credit card of their own accord. You can check if you are qualified for a credit card by filling out an application form, but your credit will not be affected in any way due to the prequalification process. 
2. Can you be denied after pre-qualification?
Yes, you can possibly be denied a credit card even after getting pre-qualified. Pre-qualification does not give you any guarantee, although it can be an assurance that you may get approved for a credit card. 
Winding Down
You can go and check if you are pre-qualified to get a credit card through any of the methods mentioned above, whichever works best for you. Although it is not necessary that you should compulsorily check for pre-qualification every time you plan to get a credit card or loan, it can be quite an assurance that you are not going to be disappointed with a rejected reply from the credit card issuer. 
While checking to see if you are pre-qualified for a credit card is good and important before applying for a credit card for the certainty that you would not get rejected, you also need to make sure to keep up a good financial profile, credit score, and history, etc. to meet the requirements of the credit card issuer and/or the credit card you are applying for. 
And lastly, if you need help increasing your credit score, or anything related to your credit, reach out to The Credit Pros immediately for quick solutions.