5 Best Alternatives to Cosigning a Loan
Table of Contents
Cosigning a Loan – 5 Best Alternatives
Cosigning a loan might not sound like a big deal compared to the urge to help a loved one with a bad credit score. Did you know that consigning a loan can risk your financial life and even your relationship? You can become fully responsible if the primary account holder fails to repay their loan. It is always best to check off a list of alternatives before you decide to cosign for others.
I am Damon DeCrescenzo, a seasoned credit expert and the founder of The Credit Pros. With years of experience as a credit advisor, I can brief you on the benefits and drawbacks of cosigning a loan.
Will Cosigning Affect My Credit Score?
Simply put, cosigning a loan does not put your credit at risk. The actual effect starts when the primary borrower fails to pay their loan payments. This can affect your credit history considerably. However, if the primary account holder maintains normal credit behavior, your credit reports reflect the positive impact.
You may feel stuck between the cautiousness of not risking your credit and the guilt of not helping your friend in need, but there are a few ways to save your bond and finances in a single go. You may suggest alternative ways of securing a loan with bad credit.
Robert R, who connected with The Credit Pros, appreciates our proven strategies. And highly recommends this for anyone looking to increase their credit score. 
Get your friends to sign up here and help them secure the loans they prefer. 
What Is Cosigning?
Did you know? Bankrate says that 1 in 6 adults have cosigned a loan at some point. When an applicant's credit reports are not convincing enough to get through the loan approval process, they may seek help from others. When people with good credit cosign the agreement, the loan vendors consider the lender's additional assurance and approve the loans.
If you maintain a good credit history and see a friend struggling to get approved for a loan, you could help by cosigning for them. But it would be best if you remembered that you become responsible for the loans when you sign the documents. If the primary borrower stops paying, your credit scores may start decreasing.
Who Benefits from Cosigning?
The cosigning process might put the cosigners at risk, but who will benefit from this cosigning concept? Here is a list of scenarios in which people should consider cosigning options if available:
First-time credit users may not have a long credit history to showcase it as an eligibility criterion. Taking help from cosigners may be of good support to them.

The credit users of the young adult category would have just started their credit journey recently. These people can also seek cosigners' support.

If the borrower's credit report has records of missed payments, they can depend on a cosigner's credit behavior to get approved for loans.

Low credit score holders with low borrowing power might have trouble qualifying for a loan or credit card, but if potential creditors decide to help them, they can get approved for a loan.

Having a person who doesn't mind taking responsibility for the borrower's loan payments is highly important. Not everybody prefers to risk their finances and take responsibility, knowing the financial consequences behind it.

Some lenders consider the borrower's income and jobs to approve their loans. When the borrowers are self-employed and have no option to ensure their job security, the lenders may find it hard to pass this criterion. 
How Does It Work?
Consider the primary borrower A, with low credit scores, no qualification to secure their desired loans, and lower interest rates. In this case, A does not have to be discouraged about the lower possibility of being approved for a loan. Instead, they can reach out to a disciplined credit user and request them to cosign their loan documents. Considering the cosigner's credit history, the loan vendors will approve loans.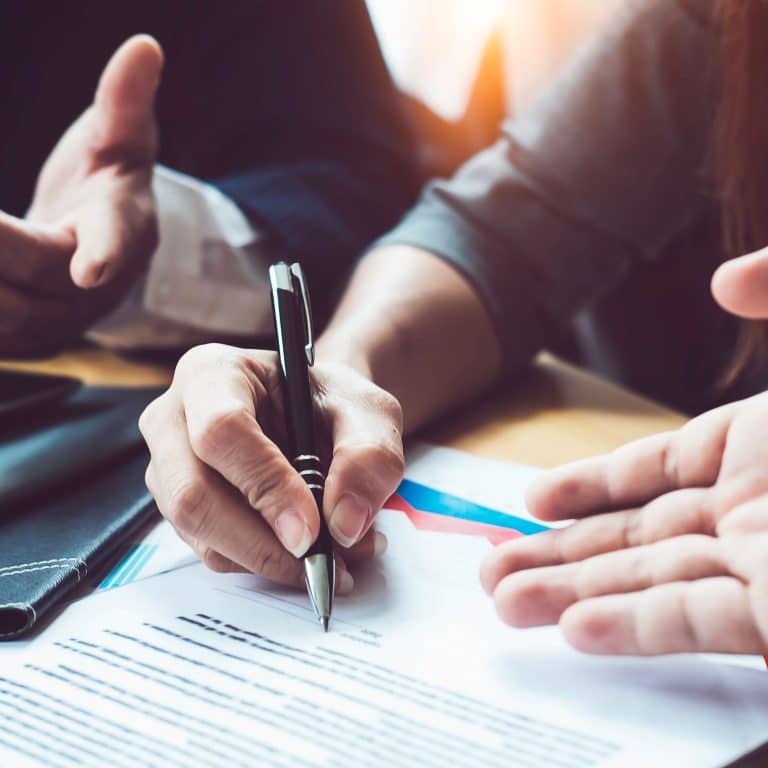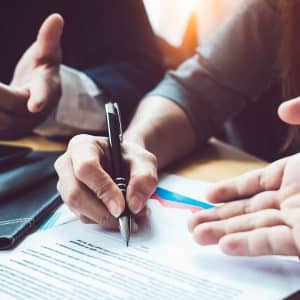 Cosigning a Loan
Things to Check Before Cosigning
Cosigning is not as fearful as it appears to be. If the primary borrower pays off loans at due dates, it will add value to the cosigner's credit profile. On the other hand, it is equally risky when your primary borrowers fail to pay off loans on time before getting into such a tedious process, verifying a few points and then deciding whether to cosign or not is better.
Borrower's Ability to Repay Loans
Make sure your primary borrower is capable of repaying their loans. If not, it is going to affect your credit scores considerably.
Your Ability to Withstand Another Credit
When the actual borrowers fail to repay the loans, this credit stays as a line in your credit report. In the worst-case scenario, you should be prepared enough with financial backup to handle another new credit.
Beware of the Risk
Never sign anything without knowing the risks behind it. Though cosigning is helpful, it might put you at financial risk. Analyze the risks involved, and get into this only if you can overcome all these impacts. Here is the list of impacts you could face as a cosigner.
You will become legally responsible for the loan payments. That is, you are responsible for the entire loan amount.

This will remain an additional credit in your credit reports.

This credit will get recorded by the credit bureaus.

Removing yourself from this is not easy.

Lenders can sue you if you fail to repay the loans.

You might end up losing the trust of the borrower.

This decision can directly impact your credit score.

It might even put you in financial difficulty. 
Alternatives of Cosigning
Cosigning is not the only way to increase your loan approval chances. Keeping credit risk in mind, the primary borrower and cosigner should avoid cosigning and look for other alternative ways. Here is a list of options that are better than cosigning a loan.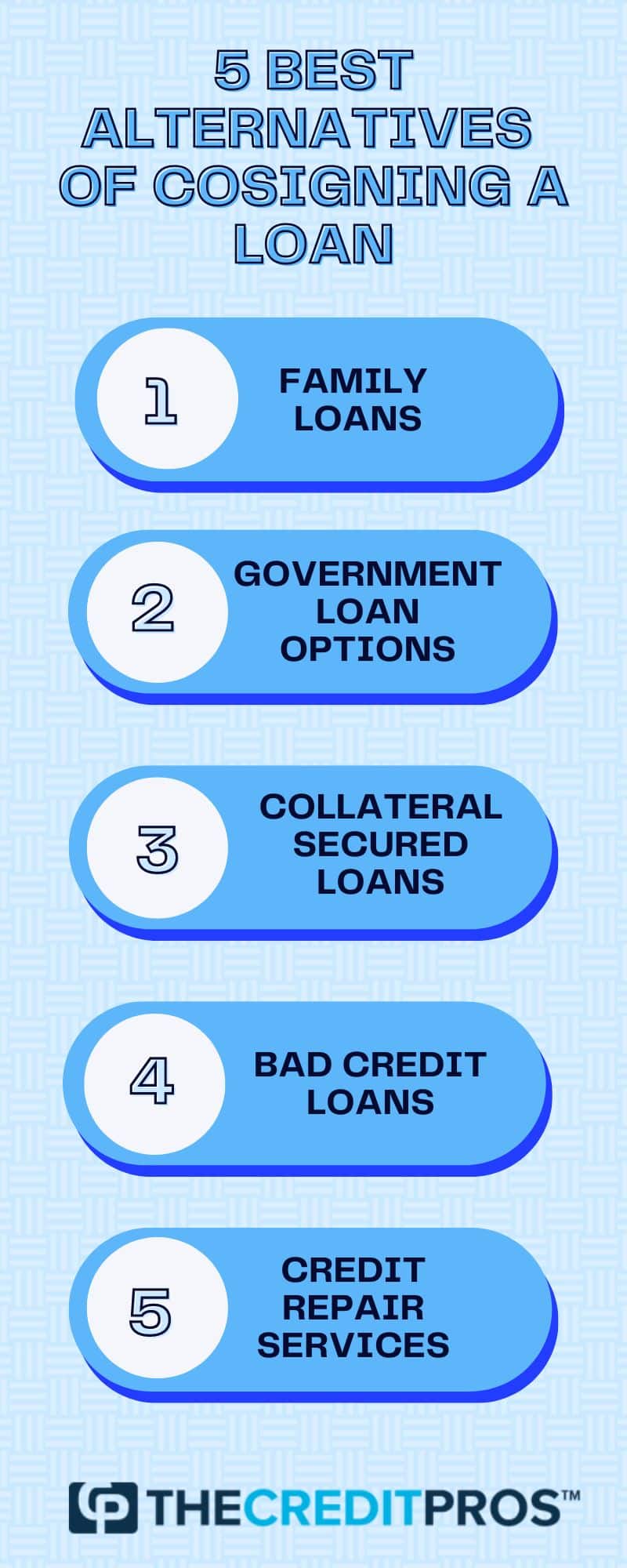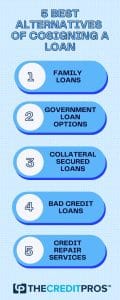 Alternatives of Cosigning a Loan
Family Loan
Getting a family loan is much better than seeking help from a cosigner. If a borrower has a friend or family member to help them, they can take out a family loan. In this case, the borrowers and the family members can avoid the risk of putting themselves into debt with a third-party lender.
Government Loan Options
Credit users should keep track of the loan programs offered by the government. In addition to FHA and VA loans, the government will usually extend loan options for lower credit scores.
Collateral Secured Loans
Users can use a secured personal loan if they have a poor credit history. When their established credit history is not so convincing for lenders, gaining their trust by providing collateral security could help.
Bad Credit Loans
Most loan approvals are based on the credit users' timely monthly loan payments. But, bad credit loan providers usually approve loans for bad credit holders. Though this can cost higher interest rates, people who can pay off loans at higher rates can try this option.
Credit Repair Services
Being a user with a good credit history, you likely understand the benefits of increasing credit scores. In the same way, you can guide your friends and family members with lower credit scores to boost their scores. You could even recommend a reliable credit repair service to improve their credit score in organic ways. This option would save you and the borrowers from future risks. 
Suggested Reads
Frequently Asked Questions
1. Whose credit score will be considered when cosigning?
Lenders will consider the cosigner's credit score to approve the borrower's loan application. As the borrower is not eligible for the loan, the cosigner's good credit score credit data will most likely be used.
2. Will cosigning affect your credit score?
The borrower and cosigners become responsible for the loan so that the loan payment can impact both credit accounts. As cosigners are legally responsible for the loan, it will hugely impact the cosigner's credit score.
3. What are the alternatives for cosigning a loan?
Low credit score holders can try other loan options where the credit score requirement is low. Or they can focus on improving their credit scores and then apply for a credit score. 
Final Thoughts 
This article has detailed the impacts you could face as a cosigner. If you want to help others with your good credit score, it is better to think twice before cosigning their documents. If you are stuck between longing to help your friends and the fear of risking your credit, make sure you can handle all the credit risks you will be subjected to.
In this case, you can suggest a few alternatives to your primary borrowers and back them in getting approval for their loan application. Helping them to increase their credit scores can help them with every loan application. You can recommend a reliable yet cheap credit repair service, like TheCreditPros, where they can get credit advice from experts and make their report error-free. To learn more about the service, you can contact us here – (855) 228-8913.
If you have other alternate ideas, drop your suggestions in the comments section!