Subsidized Loans – A Comprehensive Guide in 2023
Table of Contents
Subsidized Loans – A Comprehensive Guide in 2023
If you are looking for a student loan that can benefit you, all the while covering up your financial needs subsidized loans can be the best choice possible. It is a federal loan for students with financial needs who have not yet graduated.
The important characteristic of a subsidized loan that makes this loan more suitable for school-going students is that the interest charges are absorbed by the lender and the student is not required to pay the interest for the period they are in school, and a grace period of the first six months after school is over. 
So, to get into more in-depth details of subsidized student loans, stay tuned. 
"Note: Federal student loan repayment is paused for millions of eligible borrowers, beginning in March 2020, at the onset of the coronavirus pandemic. The postponement of monthly dues and accruing interest has been extended eight times by the Biden Administration, most recently through June 30, 2023."
What Are Subsidized Loans? 
Subsidized loans are loans where the lender subsidizes or pays the interest. In other words, interest does not accrue in subsidized loans, since this is a loan for students who are undergraduates that has financial needs, determined by the attendance cost minus expected financial aid or contribution from the family. 
How Do Subsidized Loans Work?
Federal subsidized student loans usually charge fees. You are required to pay a fee for the loan based on the amount you have borrowed. 
Subsidized Loans vs. Unsubsidized Loans
There are many major differences when it comes to subsidized and unsubsidized loans, but before you choose a student loan compare them to see which one is more suitable for you. For example, subsidized student loans are very suitable for students who haven't completed school yet and have financial needs. On the other hand, unsubsidized loans can be taken by professional seekers and graduated students with some more benefits than private student loans.
So, when it comes to subsidized vs. unsubsidized loans, these are differences you need to keep in mind. 
| | |
| --- | --- |
| Subsidized Loans  | Unsubsidized Loans |
| Lenders take responsibility for interest charges | The borrower is fully responsible for the interest charges |
| Borrowers pay to reduce the monthly payments and overall borrowed debt  | Borrowers incur high monthly payments leading to more debt.  |
| Only undergraduate students are eligible  | Undergraduates, graduates, and professional seekers are all eligible.  |
| Borrowers have to demonstrate financial needs | Borrowers do not have to demonstrate financial needs.  |
Are Subsidized Loans Better Than Unsubsidized Loans?
Although both subsidized and unsubsidized loans are offered by the federal government, there are some crucial differences between them. 
Subsidized loans have many benefits of a student loan if you qualify for them. It cannot be said that subsidized loans are necessarily a better option than unsubsidized loans, but the government takes the responsibility for the interest during the time the student is in school or the grace period of 6 months after graduation. Federal student aid, like subsidized student loans, is only for undergraduate students who can demonstrate their financial needs. 
While it is true that unsubsidized loans are more expensive than subsidized student loans, they have many advantages over private student loans, like flexible payment options and lower interest rates comparatively. So, unsubsidized federal loans are not that bad and can be taken out with preventive measures, like borrowing only what you need if you are a graduate student who wants to cover college expenses or school fees. 
Subsidized Student Loans – Types
Federal student aid has two types of subsidized student loans. They have different characteristics and benefits, and most importantly for different kinds of borrowers. 
1. Federal Student Loans 
The interest rate of direct subsidized student loans is paid by the U.S. Department of Education during certain times. When a student is enrolled at least half the time, for the first six months after the student has left the school, or during a deferment period. 
Federal direct loan programs can be only availed by students who are undergraduates and can demonstrate that they have financial needs. 
2. Federal Home Loans 
The loan programs offered by the USDA – U.S. Department of Agriculture and some other federal agencies to make moderate-income people eligible for subsidized home loans. For example, USDA offers Single Family Housing Direct Loans for people with financial needs that have subsidy assistance for payment which reduces the monthly payment of the borrowers, as well as the rate of effective interest on the loan. 
What are The Requirements To Apply for a Subsidized Loan?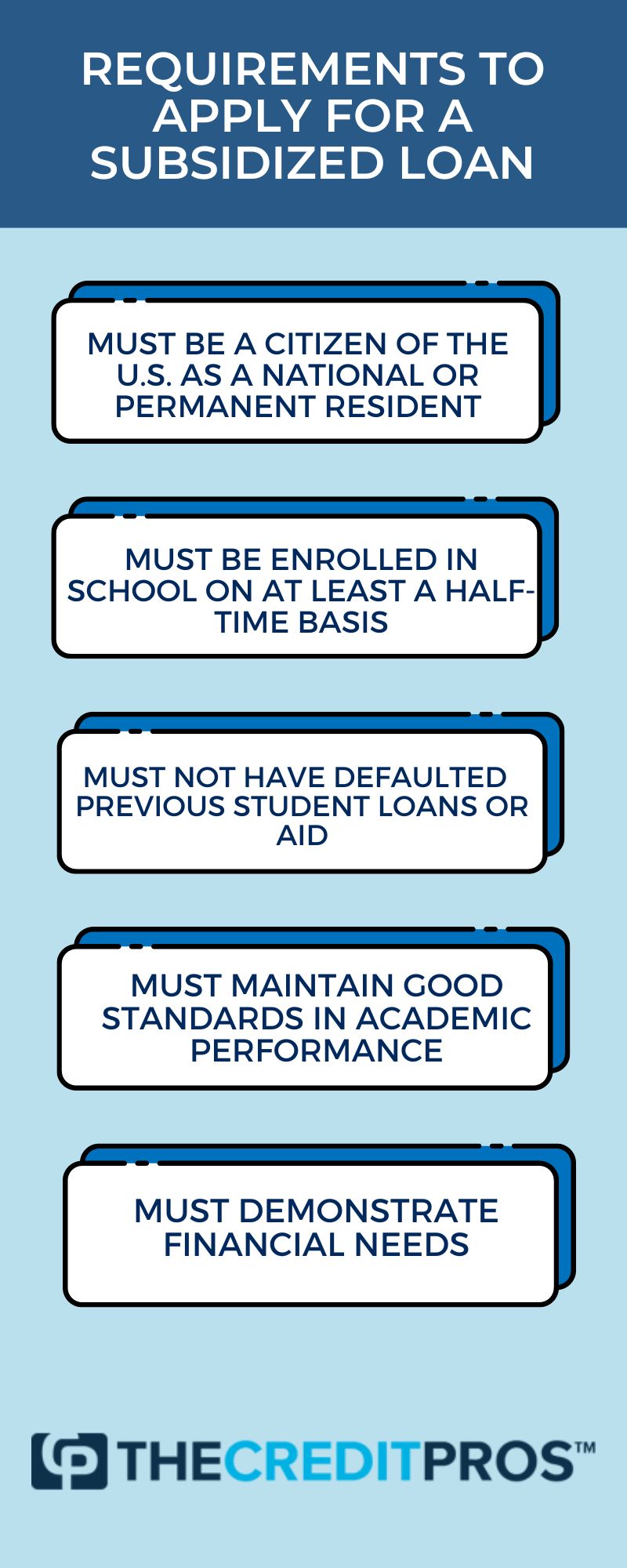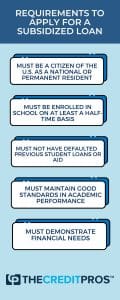 You have to meet certain requirements and guidelines by the government to qualify for a subsidized student loan.
Must be a citizen of the U.S. as a national or permanent resident. 

Must be enrolled in school on at least a half-time basis. 

Should not owe repayments or default on any previous student loans or aid. 

Should be maintaining good standards in academic performance.

The borrower must have financial needs.
So, after getting qualifying for a subsidized student loan, these are steps to be followed to get the loan. First, start the application for the student loan by filling out the FAFSA. After your application has been reviewed by your school and the federal government, you then receive your loan.
Pros and Cons of Subsidized Loans
A subsidized loan has some great benefits, but at the same time, the drawbacks that come with them should be taken into consideration. 
Pros
Subsidized loans give people with financial needs the opportunity to save money for a certain period of time since the federal government pays the interest. 

Subsidized loans offer repayment options that are highly flexible, which can not be possible with private student loans. 

When compared with other student loans these subsidized loans charge less interest.
Cons
Subsidized federal loans have a limit for how much you borrow each year and in total. The maximum loan amount is determined by your school based on federal limits, like your years in school, and your financial needs. If your need for finance is higher than the maximum loan amount allowed, you can take out direct unsubsidized loans or private loans to balance out the difference. 

Subsidized loans can be availed only by undergraduate students. So, graduate students have to take out loans other than subsidized ones. 

To get the loan, you must demonstrate financial need. So, if one of your parents' incomes or your own income (if you are not considered a dependent) is too large, you may not be eligible. 
Key Takeaways
In subsidized loans, the lender pays the interest for a certain period of time. 

Subsidized loans have two types of loans – Federal student loans and Federal home loans. 

Usually, the borrowers of a subsidized loan are students with financial needs. 

Borrowers eligible for subsidized loans get the benefit of paying less interest, and overall loan cost compared to other loans.

The graduates who find it difficult to demonstrate financial needs can get unsubsidized loans. 
Frequently Asked Questions
Are Subsidized loans better?
Yes, a direct subsidized loan has better terms and benefits than an unsubsidized loan to help undergraduate students with financial needs. 
Who suffers the most from student loan debt?
According to census analysis data one in every five U.S. adult citizens (17.4%), that is 45 million Americans have student loan debts. (Source: Nerdwallet)
What are the disadvantages of a subsidized student loan?
The main disadvantage of a subsidized student loan is that it is not available to graduate students. And it has some strict limits on the loan amount you can take out annually and as a whole. 
Coming to the Point
Taking federal student loans for financial needs helps you establish your credit history for better financial benefits in the future. You can easily improve your credit if you start with a student loan and make on-time monthly payments for the loan. 
But choosing the right type of federal student aid is where the tricky part is, categorized yourself under the available student loan option's eligible list, and see for which loan you will be easily eligible. After that, check if the characteristics and benefits of the loan suit your needs and capabilities. 
Sometimes assessing yourself financially and analyzing your financial position can be very helpful when making decisions on credit matters. For that purpose, or for any other queries related to finance and credit reach out to The Credit Pros, an expert credit repair agency to get clarifications and solutions for the problem at hand.